However, when this data is related to other variables taken into account (see the cross-references in Galindo and Vila 2008), it can be seen how important the demo-linguistic environment turns out to be: the use of Catalan exceeding that of Spanish does not depend on linguistic competence in Catalan but rather on the presence and knowledge of the language in the school and social environment.
Grafh 7. The relationship between usage and linguistic competences

Source: Vila and Galindo body of data
Grafh 8. Language of speaking turns according to the level of oral comprehension in Spanish (from a lower level of comprehension to a higher one)

Source: Vila and Galindo body of data
3.3. Condicions lingüístiques ambientals, del centre i de la docència
The analysis of the data in accordance with the three variables taken into account in the selection of the 52 schools makes it clear that children use quite a lot of Catalan in areas where the declared knowledge of the language is high, but not in schools in areas where it is said that little Catalan is known (graph 9; see table to find out what the codes correspond to).
Graph 9. Language of speaking turns and environmental linguistic conditions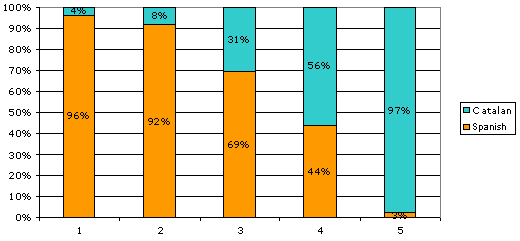 Source: Vila and Galindo body of data
Much more Catalan is also heard in the playgrounds of schools attended by a high percentage of Catalan-speakers – that is, 70% or more – and not so much in the playgrounds of centres with a higher proportion of Spanish-speakers (graph 10).
Graph 10. Language of speaking turns and school linguistic conditions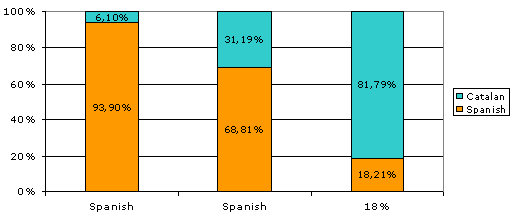 Source: Vila and Galindo body of data
Graph 11. Language of speaking turns and linguistic teaching conditions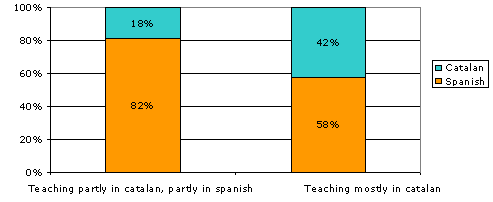 Source: Vila and Galindo body of data