Minorities have always constituted an important element of Poland's ethnolinguistic landscape. It has to be mentioned, that from 1385 to 1795, the lands of Lithuania, Byelorussia, most of the present Ukraine and Poland were a part of one state organism based on free state union (the so called Republic of many nations) rather than on territorial conquests. During that time religious tolerance favoured the influx of "infidels". Hence the presence of Czechs –descendants of Husits , Russians– Old believers, Jews and German Protestants. Minority communities constituted more than one third of the Polish population even after regaining independence in 1918. About 30 % of its population of 36 million people were representatives of ethnic minorities during the interwar period (1918-1939). The population of Poland consisted of 14 % of Ukrainians and Russians, 8.5 % of Jews, 3.1 % of Byelorussians, 2.3 % of Germans, and 3.1 % of other minorities according to a census from 1931 (Kersten, 1989, p. 443).
After the Second World War the Allies signed treaties that made Poland fall back on its ''ethnic borders'', which meant the loss of most of its eastern territory. In consequence, minorities shrank to about 5 % of the entire population, basically as a result of the extermination of Jews, territorial changes and postwar displacements –migrations. In the Polish People's Republic the government used a policy against the language and the culture of minorities that was very typical of the whole of Eastern Europe policy. It was one element of a very restrictive and discriminatory Stalinist practice. The political thaw after 1956 made it possible for minority groups (mostly in their socio-Cultural societies) to cultivate some elements of ethnic and language identity in a strictly limited way, controlled by the organs of security. The government favored first of all the cultivation of folklore (Majewicz, 1995).
The year 1989 brought changes in the status and in the situation of ethnic minorities in Poland. Communist propaganda had claimed that the Polish state was a homogenous country in terms of the national structure. Representatives of other nationalities, inhabitants of Polish territories for several generations, were perceived in terms of ethnic relics. The problems of minorities in Poland were invisible till 1989

.
It was not possible to raise ethnic issues in research on a large scale because membership of a nationality was not included in census questions. Reliable and complete data was provided only in censuses, conducted once per 10 years. Since 1921 only 9 censuses have been carried out in Poland. During the inter-war period data on the nationality and the religion of citizens was collected in two censuses (1921 and 1931). In the 1931 census, nationality was deduced on the basis of religion and native language. In the postwar years the nationality issue was included for the first time only in the last census in 2002, where questions about nationality and language used at home were included.
According to the public census from May, 2002, Poland has 38.2 million inhabitants. The overall composition of the Republic of Poland is highly homogeneous, since those of Polish ethnicity constitute nearly the total of its population (96.7%) and minorities are relatively small and dispersed. Non Polish national identity is declared by 444.6 thousands (1.2 %) Polish citizens. Moreover 2.0 % citizens did not declare any national identity.
At the same time the results of the census point to numerous ethnic communities which still live in Poland (see table 2).
Table 2. Population by declared minority language and nationality
in Poland according to the 2002 census
| | | | | | |
| --- | --- | --- | --- | --- | --- |
| Minority and regional languages | Population by declared language (in 1000) | Stateded language (in %) | Minority group | Population by stated nationality (in 1000) | Stated nationlity (in %) |
| German | 196.8 | 33.0 | Germans | 147.1 | 23.7 |
| Silesian | 56.4 | 9.5 | Silesians | 172.2 | 27.8 |
| Byelorussian | 40.2 | 6.7 | Byelorussians | 47.6 | 7.7 |
| Kashubian | 52.6 | 8.8 | Kashubs | 5.0 | 0.8 |
| Ukrainian | 21.1 | 3.5 | Ukrainians | 27.2 | 4.4 |
| Romany | 15.7 | 2.6 | Gypsies | 12.7 | 2.1 |
| Russian | 12.1 | 2.0 | Russians | 3.2 | 0.5 |
| Lithuanian | 5.7 | 1.0 | Lithuanians | 5.6 | 0.9 |
| Ruthenian | 5.6 | 0.9 | Ruthenians | 5.8 | 0.9 |
| Czech | 1.2 | 0.2 | Czechs | 0.4 | 0.1 |
| Slovak | 0.8 | 0.1 | Slovaks | 1.7 | 0.3 |
| Armenian | 0.3 | 0.1 | Armenians | 0.3 | 0.04 |
| Hebrew & Yiddish | 0.2 | 0.03 | Jews | 1.0 | 0.2 |
| Karaim | 0 | 0 | Karaims | 0.04 | 0.01 |
| Tatar | 0 | 0 | Tatars | 0.5 | 0.1 |
| Non-defined | 187.6 | 31.5 | Non-defined | 31.5 | 30.6 |
| Total | 596.3 | 100.0 | Total | 621.0 | 100.0 |
Source: Author's own table based on the 2002 census.

Among ethnic groups Silesians and Germans are the largest minorities –172.6 thousand of Polish citizens declare Silesian national identity and 147.1 thousand, German. The third and the fourth linguistic minorities are, respectively, Byelorussians, 47.6 thousand, and Ukrainians, 27.2 thousand. The Gypsies appear in fifth position with 12.7 thousand. They are followed by the historical minorities which number from 5 to 10 thousand people: Ruthenians/Lemkos- 5.8 thousand, Lithuanians – 5.6 thousand, and Kashbus – 5.1 thousand. Next there are minor communities like Russians – 3.2 thousand, Slovaks (1.7 thousand), Jews (1.1 thousand), Tartars (0.5 thousand), Czechs (0.4 thousand), Armenians (0.3 thousand) and in last place the Karaims (0.05 thousand). It should be remarked that in 2002, a significant portion of the total population declared themselves as Silesian. It was the first time in the history of Poland that Silesian, Lemkos and Kashubs were accounted as national identities, although the Polish legislation on minority rights does not consider them as such.

It should be also noted that the results of the 2002 census are very recent and they still need to be completely evaluated; in fact, as in the case of previous estimations, representatives of ethnic minorities presume that the figures for their groups are underestimated. This is due to the fact that, given their exclusion in the communist period, the minority groups prefer not to state their real ethnicity. The main historical minorities –Byelorussians (White Russians), Ukrainians, Ruthenians, Germans, Gypsies, Slovaks, Russians – are gradually decreasing and being assimilated.

Ethnic diversity meant the presence of the diverse speech communities (Gumperz, 1968). However, the increasing assimilation of indigenous ethnic groups into the Polish identity may be due to the similarity of their languages, and therefore the number of people who use minority language in every-day life is different from the number of particular groups. The minority language that emerged as definitely the most often used, is German –used by 196.8 thousand of people with Polish citizenship.

It's worth stating that significantly more people declare using the German language than having German nationality. The knowledge of the ethnic situation in Silesia leads us to assume that some members of the German national minority who have inhabited the Silesia region for numerous generations might define their nationality as Silesian. Nevertheless the next most often mentioned language was Silesian –56.4 thousand, followed by the second regional language –Kashubian –52.6 thousand of people. A relatively substantial number of users to have also Byelorussian –42.2 thousand, and Ukrainian -21.1 thousand.

From the territorial point of view,Polish citizens with non-Polish identity are concentrated mainly in three provinces (Figure 2): Silesia – 182.9 thousand (41.1 %), Opole province – 130.4 thousand (29.3 %) and Podlasie – 54.3 thousand (12.2 %). The majority of ethnic groups are concentrated in one or no more than two provinces (Figure 3). Byelorussians are compactly settled in Podlasian province – 96.6 per cent, as well as Lithuanians – 90.3 per cent. Like Byelorussian and Lithuanians, Russians and Tatars live in Polasian province and in the capital of Poland (Warsaw), but Russian – Old believers community inhabited Varmia-Masuria region. Kashubs are settled in Pomerania – 96.7 per cent and Slovaks in the southern part of Little Poland province – 91.1 %. Germans inhabit mainly the Opole province (70.1 %) and Upper Silesia (20.1%); however in the case of Silesians the situation is reversed because 85.8 per cent of people who declared Silesian identity reside in the Silesia province and the rest of the population (14 %) is concentrated in the Opole province. Ukrainians and Lemkos belong to the most dispersed minority, for historical and political reasons and yet these groups are also localized in some regional clusters: Lemkos inhabit Lower Silasia (over 50 % of the population), followed by Little Poland (27 %) and Lubush province (13.4%).Ukrainians, on the other hand, reside firstly in Varmia-Mazuria (43.7 %), then more than 10 per cent in Pomerania and Lower Carpathia province. The Gypsy population, on the other hand, are dispersed throughout the entire Republic of Poland; they are present in almost every province. The smaller minorities like Armenians, Karaims and Jews live in the large cities: Warsaw, Cracow, Wroclaw, Gdansk.

If declarations on language use are to be considered, the most numerous group of bilingual people is concentrated in the Silesian and Opole provinces. An interesting situation of diglossia (4) occurs in Pomerania, where every user of Kashub is bilingual in home relationships. Another situation however is in the Podlasian region where users of Byelorussian and Lithuanian are more monolingual than bilingual (in home relationships).

Figure 3. Indigenous ethnic minority in the provinces of Poland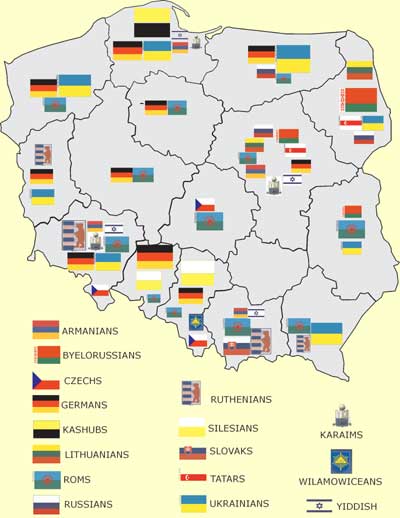 Source: Author's own map based on the 2002 census and on the other researches.
Flags and emblems that represent respective minorities mark their presence in administrative provinces. The size of symbol characterizes approximate numbers and importance of minorities in their regions.