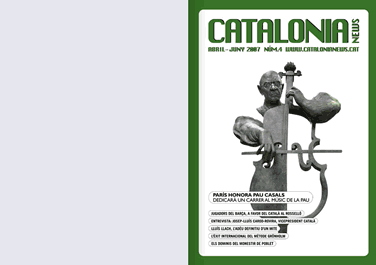 Catalonia is a country with a thousand-year history keen to present the best of itself to the world. A love of art, literature and partying, an entrepreneurial spirit and a commitment to helping other countries are just some of the values Catalonia wants to showcase through an extended dialogue with the other peoples of the world.

Catalonia News aims to hold up a mirror to this attitude. Although set up by the autonomous government of Catalonia – the Generalitat – it also brings together events taking place in civil society and counts on the participation of independent professionals. Foreign affairs lie at the heart of it, though there is also room for Catalan creations and traditions with a universal appeal.

To view it, click on the image at the top of the page and visit the magazine on-line. To print it you'll need to download the PDF file.



Previous issues


Other publications